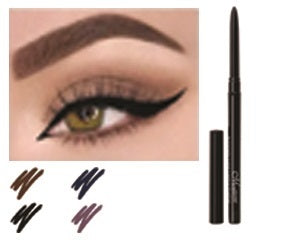 0 Comment(s)
/
by Marvel Perilla
USERS CHOICE FOR GEL EYELINER THAT CREATES PRECISE LINE LOOKS
The beauty enthusiast knows how gel eyeliners are rocking the current eye makeup world. This highly-pigmented, color intense gel eyeliner is every fashion fanatic's favorite. Featuring high impact colors, this smudge-proof liner offers a precise glide-on application and high impact color that stays put for hours. Not only is there a classic powerful black, it comes in 8 shades for your own expression!
WHAT MAKES WATERPROOF GEL EYELINER A GREAT BUY?
Made with all natural, cruelty-free, moisturizing ingredients such as Safflower Seed, Soybeans oils, Chamomile, Vitamin E and C this waterproof, smudge-proof and transfer-resistant eyeliner is made to last.
DO IT LIKE A PRO
Makeup artists are always searching for a product that delivers excellent visual impact in a short period of time. Whether you have been a fanatic makeup artist, a regular makeup enthusiast or just starting with makeup, when it comes to the eyes; makeup can be detailed and tricky. There's no harm in having few strokes here and there, however, you can work that magic and achieve perfect eye makeup when you have a waterproof gel eyeliner.