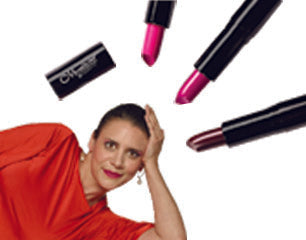 0 Comment(s)
/
by Marvel Perilla
Indulge yourself in the new lip experience with high pigmented luxuriously-rich formula Demi-Matte lipstick that glides on and blend effortlessly, providing excellent hydration and gives lips extended wear with a suede-like finish that does not feather or fade!
For many people the lips are the first feature noticed, which is why having a powerful lipstick can be so important. A powerful lip can boost confidence and style with one simple stroke. This collection delivers saturated colors in neutral tones, Sienna, Metallic Bronze, Pink and soft Red which are very popular this season. Matte, and shine-free, this lipstick makes them ideal for day wear… add a touch of lip gloss for that shiny evening wear.
SHADES FOR ALL SKIN TONE
Demi-matte lipsticks complement dewy skin. Wearing a matte lip adds an extra edge to an otherwise bland look.  The sodium hyaluronate hydrating formulas come packed in a higher ratio of color pigments, they stay on lips for longer wear.  Now you can take a sip of coffee without feeling guilty of leaving traces of your lipstick on the mug.  And forget the fable about matte formulas drying out lips. The new range of demi-mattes provides hydration and subtle texture. 
THE POWER OF A BOLD LIP
If you want to stand out it takes more than just style. It takes confidence and let's be real, a powerful lipstick. Hot, bold color is on trend right now, and guess what? It might be just an added touch of perfection you need to really set you apart from all of the other ladies in and around. All the style icons are indulging in the matte lip phenomenon; it's time for you to indulge too!
Let's not forget, true beauty is in the eye of the beholder - but once you've come in terms with that saying, you can indulge every now and then in your inner fashionista!