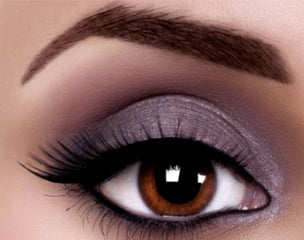 1 Comment
/
by Marvel Perilla
Are you a beginner in makeup? There's no shame in that. We have all gone through that stage, not knowing what product to choose, which brush to use, where to apply eyeshadow and how to blend properly. This makeup tutorial will guide any beginner to learn how to do eye makeup like a pro.
Get ready to learn some insider tips and tricks about eye makeup application.
Step 1
Start with an Eyeshadow Primer
Eyeshadow Primer evens skin tone, camouflages flaws, and provides the perfect canvas for crease-proof, all day color. Apply Eyeshadow Primer over foundation, onto eye contour, Lids and brow-bones and blend before eyeshadow application.
Step 2
Begin with Basic Shades
For beginners, you want to start with basic shades to create an everyday natural look. Choose a highlighter, a matte mid-tone shade, a contour shade that is 2-3 shades darker than your natural skin tone or the shade you want to accentuate your ebullient look.
Step 3
Get the Right Eye Makeup Brushes
Pick the small flat eyeshadow brush for application and a medium-sized blending brush.
Step 4
Eyeshadow Application
Apply light shadow across the entire lid from the lash line to just above the crease, sweeping upward toward the brow-bone and blend (without going as high as the brow.) For intense eye shadow apply wet
Don't darken the innermost part of the eyelid.) Sweep the brush back forth several times to blend
Accentuate eye contour with darker shade, applied in crease and corner of eyelids just above the top lashes.
Then sweep it along the eyelid where the brow-bone hits the crease, moving the brush in a half-moon from the outer corner of the eye inward toward the center of the eyelid.
Use shadow color that complements your wardrobe on eyelid ad far as crease and blend.
Always tap your brush before applying to remove excess product.
Step 5
But of course, it won't look as beautiful if your lashes aren't curled. Then add mascara, a simple thin or winged eyeliner and finally, false eyelashes (optional). That's it.
You can see, this basic eye makeup is quite easy and with more practice, one can master it well. Once you keep doing it, blending colors and creating new looks will be as easy as anything!